Posted on
---
Featured
General
Last week we wrapped our Annual Member Reunion at the historic Statler Hotel in the heart of Downtown Dallas. Over 300 Stagen members gathered to reflect, inspire, and challenge one another to lead with the fierce urgency of now. We had an incredible lineup of speakers who shared their stories and gave inspiring examples of how they are using business as a force for good.
This year's reunion also celebrated Stagen's 20th anniversary. We've spent the last 2 decades establishing our foundation, business models, and intellectual approach to leadership development. Now it's time to bring a sense of purpose, impact, and contribution in a bigger way to a much larger group of business leaders around the world.
Below, we've summarized some of our favorite highlights from the event:
Are You a Short-Termer or a Decader?
Courtesy of Conscious Company Media and Rand Stagen's recent article, A Call for Long-Term Capitalism, the reunion featured an entire wall dedicated to the 10 Practices for Decaders. Decaders are those who are committed to playing the "long game" in life and in business. The practices printed on the wall embody ways that you can strive to be a decader.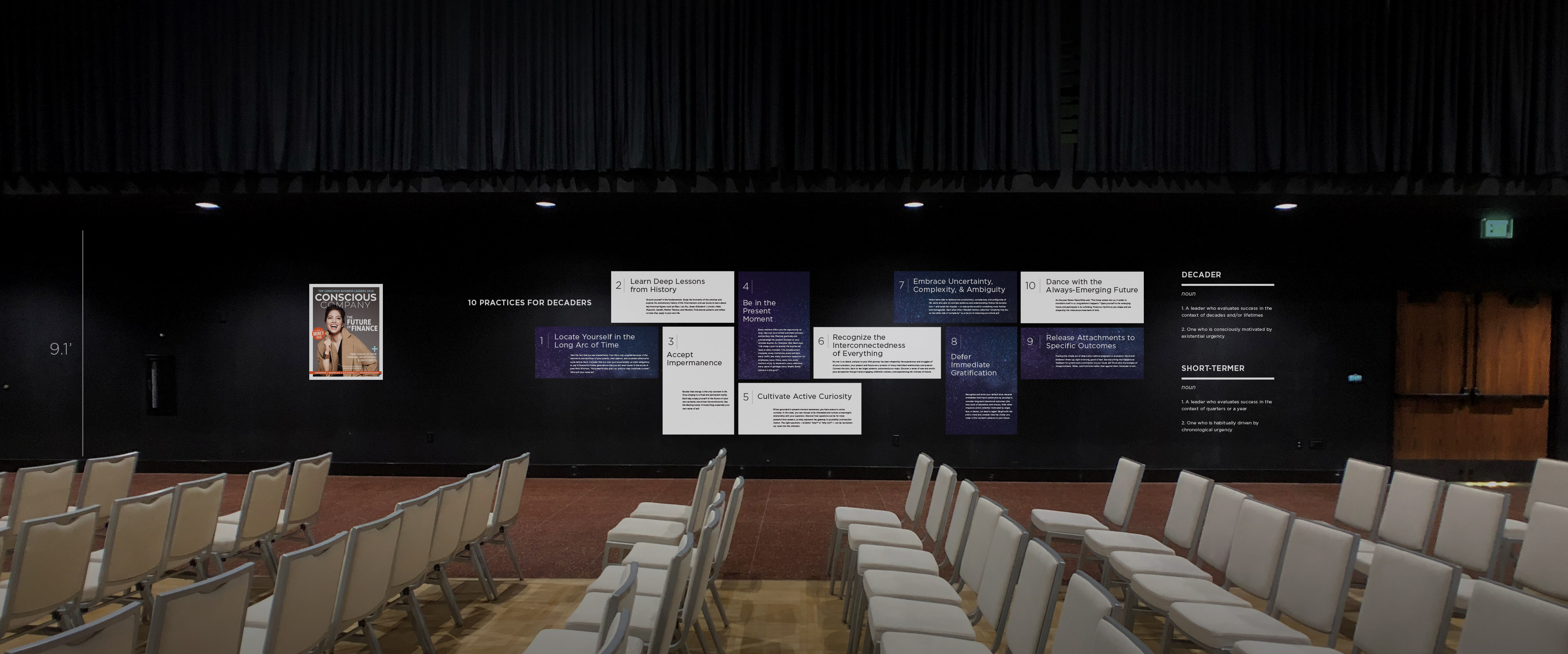 The Verse – My Verse – That I Have Yet to Put Into the World Is…
On day one of the reunion, Corey Blake, Founder and CEO of Round Table Companies, engaged the room in one of our first exercises. He challenged the 300+ members to think about "their verse" that they had yet to put into the world.
What is something in you right now that you are holding back because of fear?
In what ways are you holding your verse back?
What are you willing to commit to right now?
With the help of Round Table Companies' creative team, over the next 24 hours they creatively and beautifully represented members' verses on the RTC art wall, with the final product being showcased at the end of the event: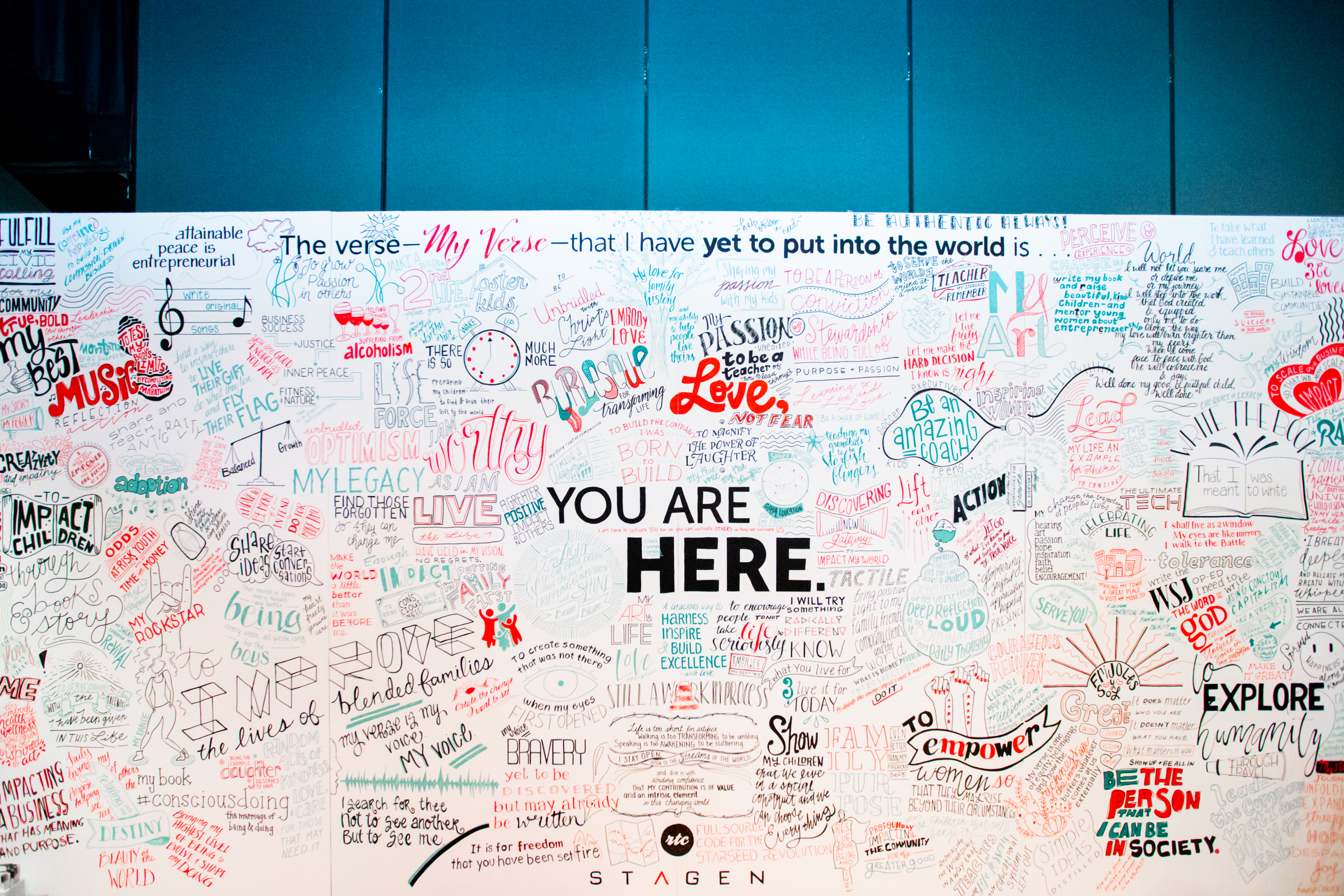 Andy Eby | Bickford Senior Living
A Caregiver's Manifesto: Whatever it Takes
Andy Eby kicked off the event as the opening keynote. He shared his story about how he discovered his true calling and came into his identity as a caregiver. Growing up under the influences of his father, Andy learned from a young age to approach everything with a strong work ethic and with relentless commitment. That drive took him to become a D1 athlete and eventually into the NFL where he signed to play for the Green Bay Packers and St. Louis Rams.
That same commitment later led him to leave the NFL so that he could join his brothers in taking over his father's family business at Bickford Senior Living. His agent and coaches said he would regret it, but at Andy's core, he knew he was a caregiver. His identity as a caregiver is what he wanted to give to the world. The transition was far from easy. For some time, Bickford wasn't sustainable and was in a fragile position. Instead of letting fear drive the bus, he led with urgency to create and innovate in the face of adversity. Bickford stands strong today, where Andy runs the operations with the caregiver's manifesto.
"This process has awakened the caregiver inside of me. It's showing me that I need to infuse the love of a caregiver in all aspects of my work and life and lead the organization in love."  
There is a beauty in aging because it awakens us to our need to express love now. Not tomorrow, but now. He left us with this final call:
"What is the contribution you are here to make? Live with the fierce urgent love of a caregiver. If not you, then who? If not now, then when?"
Haley Rushing | The Purpose Institute
Living a Life of Purpose…Doing and Being
Haley Rushing defines purpose and values at top leading companies across the world. She came to the reunion to challenge us to take find a balance between our "doing" (fueled by the drive to SAVE the world) and our "being" (inspired by the awareness to SAVOR the world) . As leaders, we at times push ourselves to total exhaustion in the "doing" dimension. We use our gifts to make a difference in the world, but it can be at the cost of our "being". If we're constantly "doing" without "being", we can wear ourselves down and miss out on the rich-felt experience of truly savoring life. To live with a fierce urgency, we must first take care of our "being".
Jeff Sinelli | Which Wich
My Momentous Leap
Jeff Sinelli took the stage to challenge us all to be bold in our ideas, announce them to the world, and have people hold you accountable.
15 years ago, Jeff started Which Wich, a 500 unit restaurant chain specializing in sandwiches. Prior to the success of Which Wich, Jeff put his heart and soul into another restaurant that ended in bankruptcy and put him in hundreds of thousands of dollars in debt. Instead of crumbling, Jeff knew he still had something; he had another idea to keep up with the constantly changing world. The idea was there, but nothing was coming to life until a friend challenged him to set a concrete date. Jeff took a momentous leap, set a date just 4 months out, and changed everything. It set urgency to bring his idea to a reality.
When you have aspirations to do something great, setting a deadline is crucial. Jeff Sinelli did just that. Last week amongst his Stagen peers he announced his next venture, Supernova Coffee. Jeff wrapped his presentation with a toast to Supernova Coffee, committed to opening in its first location in July of 2019.
Elyse Stoltz-Dickerson | Eosera Inc.
Know Thyself. Find Your Greatness
Elyse's powerful story is one of courageous perseverance. From a young age, Elyse had a hard time in school, struggling to read out loud in front of her class. She received criticism from her peers, was eventually diagnosed with dyslexia, and her teachers believed she would forever be a below-average student. Amongst the painful criticism that haunted her for years, Elyse refused to let anyone other than herself define her identity and set out to prove everyone wrong.
She went on to graduate from Notre Dame in 3 years and carried her perseverance in all aspects of her life: as an athlete on the track to a business professional in the office. She shared how she overcame years of continued challenges in the workplace that ultimately shaped her into the leader she is today. As the Chief Executive Officer at Eosera, Inc, she now leads a purpose-driven organization that exists to heal humans physically, emotionally, and mentally.
"We all have greatness within us. The challenge is knowing ourselves well enough to challenge that greatness. Perseverance is an internal drive that needs no external validation, it's about stepping through the fear and the failure to unleash your greatness"
Dev Patnaik | Jump Associates
Innovation, Disruption, and Organizational Courage
The world is constantly changing all around us. Companies that don't respond to change, get "fracked" as Dev Patnaik put it. We live amongst poverty, suicides, incarceration, limited natural resources, and only have one life to make an impact.
To make an impact, we must lead with courage. Not as individuals, but working together as teams to change the world. We have a fundamental misunderstanding of what courage means in our society. We've heard stories about Malala, Martin Luther King, and incredible individuals who've displayed undeniable courage, but these stories are misleading how to actually unleash it in our organizations.
"The enemy of courage is the need to fit in."
Dev explained that most business teams reward success, punish failure, and ignore inaction. We need more courageous teams that reward success, learn from failure, and punish inaction. Let's make courage an act of conformity beginning with the little things we do everyday.
Christina Harbridge | Allegory Inc.
Communicating with Context to Amplify Impact
Christina Harbridge brought some lively energy to the stage, and got us all on our feet. As a test subject for NASA, Christina explains that she learned the beauty of "tension and release" during her time there.
"In business, we're often optimizing for comfort. We're missing that commitment is the release of tension."
We have to learn to be loyal to an outcome even when we don't know what it is going to look like. Our natural tendencies look for what's wrong in situations, and this biological aversion drives our behavior to run away from anything uncomfortable.
Christina demonstrated this by having the whole room get in pairs and stare into each other's eyes in silence. It felt uncomfortable and we naturally wanted to resist. The second time the room practiced this exercise, Christina narrated thoughts to think in our head about the person we were looking at, giving us some ease and ways to find the best in each other (even if we didn't know the other person). We need to figure out how to use each other for good, rather than run away and find what's wrong. Discomfort is a sign that something is going right!
John Tobin | Slalom Consulting
How we Built a Billion-Dollar Purpose-Driven Business from Scratch
From a very early age, John Tobin knew that working hard was going to be paramount. Early in his career, he found himself at a small consulting company and later moved to Ernst & Young where he learned the ins and outs of running a huge multi-million dollar company.
Eventually, John felt a purpose and an urgency to start his own consulting company that has grown to become a multi-billion dollar entity. His success stems from his growth formula that he outlined in his presentation:
Be customer-obsessed: Learn what their passions, needs, and goals are and join in with them to make them a reality.
Have an insurgent mindset: Understand that your business can and most likely will be disrupted. Be ready for this and lean into it to differentiate yourself.
Relentlessly focus on the team: Focus on the people working together from a personalized standpoint and be vulnerable with each other.
Rick Sapio | Mutual Capital Alliance
My Crucible of Transformation
Rick Sapio closed the event with a personal and touching recount of his childhood and what led him to his "crucible of transformation".
The trajectory of his life all changed in one conversation when he was encouraged to get an engineering degree from an unlikely mentor. Eventually, Rick went on to get a full ride to Rutgers University and achieved the engineering degree he set out for.
For 4 decades, Rick stuck to his "winning formula". It led him to becoming the CEO of Mutual Capital Alliance, but he forever carried a crippling burden on his shoulders that was pushing him to his breaking point.
On July 16, 2018, Rick realized with fierce urgency that he was not living up to his potential and needed to let go of the baggage he'd been carrying for 40 years. He shared the story of letting go of the past and creating the conditions for an entirely new future.
"I have made my leap from nostalgia into an unknown future. What will it take for YOU to make your leap NOW?"
2018 Stagen Impact Award
Additionally, we announced the Impact Award for 2018 presented to both Chris Willis who is the nominating source for 197 Stagen graduates, and Rick Sapio who's nomination lineage resulted in over 155 Stagen graduates. Both of these individuals have planted seeds that will impact countless lives in the years ahead. Each of them will be honored through donations sent to the Arbor Day Foundation in their names.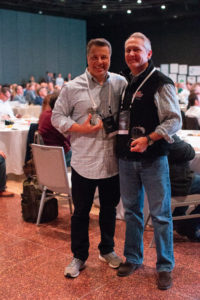 What NOW?
Clearly, this year's Member Reunion was exceptional and one for the books. Beyond the speakers and actionable insights, we also announced exciting updates to the Stagen program and big things to come, including the date for next year' gathering. Stagen Members (current and future), make sure you save the date for next year's reunion. You won't want to miss it.
December 4th & 5th, 2019
The Statler Hotel
Dallas, Texas