Posted on
---
General
Impact
Andy Eby's cleats dug into the soil of Lambeau Field, as he grasped the football and took a deep breath, right there at the center of the offensive line. Andy wasn't playing for the NFL because he was the best and most talented football player. He was playing amongst the elite because he'd spent his young life unafraid of hard work and disciplined practice. An Academic All-American at Kansas State, Andy was a free agent signed to Green Bay in 2002 before he went on to play for the St. Louis Rams.
"I played with Brett Favre and Kurt Warner," said Andy. "My claim to fame is that I had two hall of fame quarterbacks with their hands up my ass."
Spend a little time with Andy, and you'll appreciate his sense of humor. Spend a bit longer and you'll feel the hugeness of his commitment.
As a young man, Andy was so committed to playing football that in the fifth grade he started his own football league when his elementary school didn't have one. For birthdays and Christmases, he inspired his friends to ask their parents for football pads. He set up incentive-based contracts for his players and convinced a less athletic friend to ask for a video camera for the holidays so he could film their practices and Andy could study them.
Over the summers, if Andy wasn't playing football, he was caring for his grandmother, Mary Bickford, whom he affectionately called Nanny. In her early 60s, Nanny had been diagnosed with Alzheimer's and her early onset dementia required that she be cared for.
"I would make her grilled cheese sandwiches and help brush her hair," he remembered fondly.
Growing up on the outskirts of Kansas City, Kansas, Andy's father modeled hard work and grit as a Caterpillar heavy equipment salesman with an iron will to do whatever it took to overcome insurmountable obstacles. Andy's father was determined to find the type of care Nanny deserved, but assisted living did not yet exist in the state. Undeterred, his father went about creating the ideal facility. Don Eby, Andy's father, was turned down by 24 lenders because the business could not be classified.
Andy laughed and said, "We got our first loan from an organization that issued church loans, because they felt it was more mission-based, and Dad convinced them." Bickford Senior Living opened, and Andy became one of Nanny's first caregivers at a young age by sleeping on her couch, helping lay out her Sunday dresses to be worn every day of the week, watching I Love Lucy reruns with her, and perfecting his grilled cheese sandwiches.
Andy filled in wherever necessary, even mowing the lawn until his dad could hire landscaping services. "It was a true family business from the start," he said.
But he always came back to football. The work ethic instilled by his father only fueled him more, and he loved the discipline:
Practice.
Play.
Practice.
Grind it out.
Repeat.
Andy loved the road that took him to the NFL and he remained committed to the family business. Though Nanny had passed away his sophomore year at Kansas State, Bickford Senior Living continued to thrive in service to other families who had loved ones that deserved to be cared for. No longer cutting grass, Andy put his education to use and filled in an administrative capacity during the off-season. When his father told him to go raise some money, he did what Ebys do: he worked hard and figured it out, eventually using his connections to raise financing for Bickford's Michigan portfolio.
Back in St. Louis, the center for the Rams was retiring, and Andy, having paid his dues, was preparing to step into that role, which meant a big contract. But he was conflicted. "I felt like the NFL was a me-driven culture," he shared.
"The focus was on how much money you made and your contract. The sense of team that I experienced in college didn't seem to exist at the same level professionally."
It was around this time that Andy's father was diagnosed with cancer and Andy received a visit. "My brothers flew into St. Louis and told me they wanted me to consider coming to work for the family business. Instantaneously, I said, 'okay.'"
Though many outside the family thought he was crazy to leave football—including his agent—Andy has never looked back. "It was the right thing to do. It was the right thing to leave."
Practice. Play. Grind it out.
In his new marketing role, Andy returned to what he knew: Practice. Play. Grind it out.
More specifically, he hit the books. "I have a degree in business from Borders," jokes Andy about how he transitioned back into the business world educating himself through reading and applying every principle that made sense. He attended the Disney Institute for a week and was inspired by their service culture. He read biographies of great businesspeople. He developed Bickford's purpose of enriching happiness. Then for 13 years he ground it out, transitioning the company from the visionary idea his father launched to a moral, professionally managed business capable of scaling and replicating its culture over and over.
But he reached a saturation point. "I felt like the business had enough of my ideas. I wasn't being pushed anymore. I needed something to take me to the next level."
His brother mentioned Stagen Leadership Academy.
Andy read the course catalog and felt a level of depth and authenticity he wasn't seeing in other programs. After a visit to the website, and then a phone call to introduce himself, he knew Stagen was a perfect fit for himself and for Bickford. With hard work and discipline ingrained from a young age, the Integral Leadership Program (ILP), Stagen's flagship course, was exactly what Andy Eby was conditioned to do. Stagen told Andy, "You are going to work for it, you are going to practice it, and in that practice, you are going to find yourself."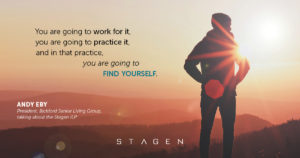 Andy had been working on his outer game since elementary school and he knew how to practice hard physically from his upbringing. What he had never learned to do, though, was to apply that practice to his inner game. "Stagen introduced me to a set of inner practices that are the fundamentals of greatness. Through those, I found my current self and got a glimpse of my higher self."
Having recently graduated from the ILP, what Andy was most grateful for was the vision work that helped him realize he had been playing small and also supported him in finding his way into the bigger game. With the help of his class and his Stagen coach, he was not only able to identify the direction Bickford was headed but to rediscover who Bickford was as an organization and a family. He left with more than a vision. He calls it their manifesto:
There is no higher calling. no greater purpose than that of a caregiver. Somehow, we've come to believe that caregiving is just for some of us and not for all of us. Yet at our core, we are all made to love. To connect. To extend ourselves in service of others. The question is… do we have the will to love? To do what it takes? To risk ourselves in caring, even when the burden is great? In times of happiness, in times of sadness—we are that caregiver. Whatever it takes.
At their recent annual meeting (referred to as their family reunion), Andy rolled out the new direction of the company to "family members" from 10 states, representing nearly 60 locations, while filming the presentation for their 3,000 employees. Wearing a T-shirt prominently featuring the phrase Whatever it takes, Andy Eby spoke these words: "The manifesto of Bickford is our declaration to the world. It is the stand we are taking."