Posted on
---
General
Impact
Leadership
The revelation blew him away. But there it was, over and over again on the pages of his journal, in his own handwriting. He was showing up as a victim in his business. When he thought of corporate evolution, he most often considered the changes that needed to be made around him. Seldom did he ever look upon the changes that needed to be made within him.
Slalom, a management and technology consulting firm, was already successful when John Tobin, President and Cofounder, thought the company needed a few tweaks—a minor adjustment, maybe a few new strategies. What he wasn't expecting from performance journaling was the revelation that shocked him. "I don't know if it was a moment or an epiphany," John shares, "but through the journaling, I saw how much I was showing up as a victim in the business, and how much I was wallowing in my own despair."
"I seemingly sought opportunities to say, 'There is nothing I can do. I am powerless. I have no options or choices.'"
John admits that he reached a point where he thought he knew it all. "I think in my mind and in my career, I got to a place where I didn't know if I needed to learn anymore. I was successful. I had already learned a lot. Stagen brought me back into the mindset that I would benefit from constantly learning again."
Started in 2001, alongside CEO Brad Jackson, Slalom's growth was exploding. The company was an idea he had tested—a consulting firm built by consultants, for consultants—and it was working. Six years in the trenches of large firms taught John that there was a demand for management consultants. Yet, he wanted to create a different company—one that allowed its employees to love more than just their work; he wanted to create a company with a heart. But knowing what he wanted and knowing how to accomplish what he wanted were two different things.
After ten years of feverish effort and strong growth, John knew something wasn't working. "We got a lot bigger, and I worried that our core values may not scale or continue to connect with this larger employee base."
John knew Slalom needed a leadership development program, and he knew where to get it. For a number of years, he had been attending an annual entrepreneurial leadership group that met at MIT in Boston. Through that group, he had met Rand Stagen, founder of Stagen Leadership Academy. "A number of people within that forum, as many as 60 or 70, had gone through the Integral Leadership Program (ILP) with Rand's company, and everybody had great things to say. From talking to Rand during breaks I understood—at least at a high level—what he did from a leadership development standpoint."
Convinced that Rand and Stagen could help Slalom scale up, John contacted him. "I took the opportunity to call Rand and find out best practices in terms of building leadership development programs internally, how they work with companies to do that, and if they work with companies or just individual leaders."
Later, over breakfast in Dallas, John learned his instincts were correct. Rand and he were aligned in Conscious Capitalism, and John was more than ready to involve Slalom in the ILP. John puts it this way: "I was going to have our head of technology and one of our West Coast leaders go through ILP so they could dissect it, and then we could duplicate the program internally." This is where Rand first challenged John.
"I told Rand my idea and he said, 'No. You have to go through it, John. If you want this to succeed in your company, it has to start with you and you have to live it.' That was powerful and a great callout to me."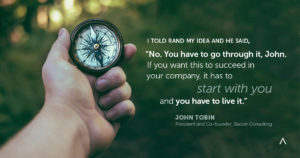 John wanted to develop his leaders. What Rand and Stagen Leadership Academy taught him was that the best way to do that was to develop himself first. This forced John to take a closer look at his own tendencies and how they could impact his leadership style, like his inclination to play the victim. "Even though I know not to put myself in the victim role, it showed up in my patterns; I would feel triggered and go into victim mode."
It wasn't long before ideas began to take shape and for the proverbial light to go on. John realized that, though he was a life-long learner, he had gotten stuck in being a knower.
Stagen's ILP helped shift him back to what he knew best.
"I need to constantly push myself, and that is a great thing for not just me but for our company—to constantly be in that learner mindset. Now we talk about creating a culture of learning. We talk about being a Learner vs. a Knower; we do that all the time and it has become a barometer. A learning mindset is something we look for as we open new offices. When searching for a general manager, we test to see if they are a learner or a knower. We use that language, and Stagen brought that front and center for us."
When asked what the future holds for Slalom, John's pace quickens and his volume increases. "We are going to be an international company—a truly global company, while scaling with our model of being focused on geography," he says. "No one has done it. No one has built a huge consulting company that focuses on geography and sustains a culture of built-in intimacy."
Sure, John has revenue goals, but what matters most to him are the people, and when he discusses those people, he becomes even more impassioned:
"We want 90–95% of our people to feel like their careers have taken off. We want this to be a place where leaders are grown. We grow leaders; we grow people. And when I say 'leaders,' I mean we grow people that exude great leadership qualities."
No longer lingering in the victim role, John and his team are steering the company toward a crystal-clear destination. By being open to learning and Rand Stagen's loving directness, John and his team were able to implement all that they learned as they grew to 5,000 employees and over $1 billion in annual revenue.
"Without Stagen," John says, "Slalom wouldn't be grounded like we are today, and that would have led to divisiveness."
Slalom is rooted in their identity as a company, their core values, and their mindset of constant, never-ending growth through learning. Committed learners for life. Starting at the top.