Posted on
---
Impact
Leadership
My entire life I have had a front-row seat to a leadership style that is grounded in purpose and relationships. My parents, Herb and Judy Billings, were missionaries in Guatemala, and both were natural leaders who were more preoccupied with contribution than personal achievement. Their clarity of purpose, combined with a humility and curiosity, gave me a lot to be proud of and a lot to live up to.
Growing up in Guatemala to American parents meant that from birth, everywhere I looked, there were two or more ways to do just about everything. As a result, I grew up with an appreciation for diversity and differences. Part of that experience was the awkward curse/gift of looking different where I felt the same (Guatemala) and looking the same where I felt different (the United States). This made me acutely aware of how many assumptions we make about each other based on outer appearances, fed an intense desire in me to understand inner worlds, and crystallized a deep understanding that the cover of a book is just that—the cover.  
College took me to Baylor University for a degree in theatre arts—the perfect place to explore the richness of inner worlds. From there, I headed to the University of Texas in Austin for my master's degree in educational psychology—another rich opportunity to better understand the human experience.
After graduate school, I had the good fortune of being exposed to more servant leaders who taught me who I wanted to be. I was moving from Austin to Dallas (chasing love, which turned out to be a good bet) and looking for my first job as a family therapist. I called on dozens of organizations, but nobody wanted to hire a recent graduate that was not yet licensed. Even my ace—being fluent in Spanish—didn't get me in the door. Most of the people I called couldn't get off the phone fast enough—most, but not all.
I called Momentous Institute, and Delane Kinney, head of the mental health program, took my call. She didn't want to hire me either, but that phone call was different from the others. She took the time to encourage me and treat me with kindness and respect, and she connected me with Lynne McClean, who had a great job available for me and was an extraordinary mentor.
Three years later, license in hand, I called Delane and said, "I want to work for you. I want to work somewhere where people treat everyone the way you treated me when I was looking for a job."
Delane, and how she treated me that day, crystallized for me what a values-based organization looks and acts like. Delane and Kent Skipper, the executive director, hired me, and I started working for them almost 20 years ago, stepping into the executive director role myself in 2012. Lynne, Delane, and Kent all taught me in a thousand ways that how you do something is more important than what you do—building on the legacy of the lessons learned from my mom and dad.
I had been mentored by the best, so my desire to always be learning and improving is strong. When I met Rand Stagen and the rest of the team at the Stagen Leadership Academy, I knew I had found my tribe. It was one of those pivots in my career that I don't need the benefit of hindsight to appreciate. I know with certainty that, regardless of what comes next, Stagen will be one of the most impactful relationships in both my and Momentous Institute's story.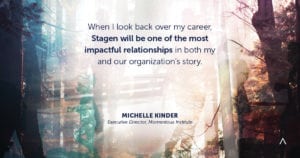 One of our stakeholders, Chris Willis, was going through Stagen's Integral Leadership Program (ILP) at the same time he was learning about our work at Momentous. To him, the similarities between our organizations were astonishing. He introduced us, and I eagerly enrolled in the year-long ILP myself.
Even though I was aware of the shared underlying psychological and human development research that supports both Stagen's and Momentous Institute's work, looking at it through the leadership lens in the ILP was captivating and engaging. It was great to be around leaders from different fields and learn that, though our organizations differ, so many of us share the same leadership challenges: clarity of vision and purpose, communication issues, and difficulty instituting organizational changes.
It was such a gift to see challenges through the eyes of my classmates. Our work together exposed me to business concepts that I didn't have access to previously.
As a therapist turned leader, there were holes in my business knowledge. Stagen helped me plug some of those holes and put practices in place that emboldened me to step out of the whirlwind into being a more deliberate, conscious leader. Like many leaders, prior to Stagen, whatever was in front of me in that moment became my priority. That philosophy resulted in a running to-do list several pages long, split attention, and challenges in moving key strategic initiatives forward. Saying yes to everything felt normal and necessary. I was MacGyver, enthusiastically keeping everything together with duct tape.
Now, using the Weekly Focusing practice, each Friday I get a clear handle on the upcoming week. Each night I pick two to three items that will get done the following day. I used to feel terrible at the end of a meeting-filled day when I checked nothing off of my to-do list. Now, when my schedule is packed with meetings, I commit to being fully present in each instead of punishing myself for an unrealistic expectation that tasks would get done on a day without white space.
This practice and many others are helping me develop into a more conscious leader and helping me to funnel my efforts into a few things with total attention and integrity instead of trying to be all things to all people. And more importantly, Stagen is helping me begin to set this mindful tone across the organization so that others can do the same. This compassionate commitment to sanity is already making a difference with retention, recruitment, and engagement.
The work with Stagen makes me a better leader, but it also makes me a better person, and that, frankly, snuck up on me.
Stagen has helped me move into a more integrated version of myself. Their programs are equipping me to express my most authentic self, regardless of the hat I'm wearing at the time.
There isn't an area in my life Stagen hasn't impacted. The practices, the learning community, and meeting with my coach are effective and have led to actual and sustained changes in my outlook and behavior. Every so often I check in with myself and think, Wow. A year ago I would have related to that stressor in a completely different way. And then I go right back to work hoping to live up to the legacies created by my parents, Lynne, Delane, Kent, and countless others who are unnamed here. I go right back to work on my growth edges, desperate to make a contribution that will impact the lives of people in small and big ways. And I go right back to work, thankful to be growing while surrounded by the Stagen community.
I think Stagen has barely scratched the surface of their capacity to change lives. I'm forever grateful and excited to see what they will do next.