Posted on
---
Execution
General
Impact
When Barry Andrews started Dallas-based Andrews Distributing Company, a beer and beverage distributor, in 1976, the company was founded on the idea of business as a family with strong core values; one that viewed all customers, vendors, and employees as stakeholders in that family.
In the '90s, there was already strong vision, growth, and culture at Andrews, so it appeared as though there wasn't much more to be improved upon.
Enter Mike McGuire.
Like Andrews Distributing, Mike had a lot going for him and was already succeeding. Business-minded since he was a kid, Mike was clear on what direction he wanted his life to take. Over the years, he found success in every prioritized area—finances, family, community, and health—and he did so because he believed in continuous improvement. Hence, whenever Mike saw or heard about new ideas, he paid attention.
During a visit to Interstate Batteries a few years ago, a project execution tool on the wall caught Mike's eye. Chris Willis, Vice President of Talent Group at Interstate, was his host. Mike had to ask him about it.
"Chris told me, 'It's a tool we use to help our organization understand, visualize, and prioritize our most important projects.' I thought it was fantastic."
Later, while working on an offsite for Andrews' leadership team, Mike remembered that tool and called Chris.
"How do I get access to that?" he asked.
And Chris told him he learned about it from the Stagen Leadership Academy.
At the time, Mike had never heard of Stagen Leadership Academy. Now, he refers to Stagen and its Integral Leadership Program (ILP) as "extraordinary"—a program whose value will extend throughout his career and life.
That value began with Mike's subsequent call to Rand Stagen, Stagen's founder, to learn about this 2×2 project prioritization matrix. In hindsight, Mike laughs at his approach. "I called Rand and told him I had an offsite in a couple of weeks and asked if I could have access to that tool. It was like calling an 8th-degree black belt and asking him to show me how to do that one kick by next Tuesday."
But Rand was understanding and patient, telling Mike, "There's more to it. Let me send you some information."
That information turned into what Mike sees as a partnership. Mike now considers Rand a great personal mentor, as Stagen facilitated changes within Andrews through the ILP and coaching. The parallels and commonality between what Andrews was successfully doing and what Stagen offered were unmistakable.
"I love the idea of creating environments where individuals and teams can be successful," Mike shares. "Creating success containers is along the lines of my personal purpose—environments—to help others develop personally, emotionally, and spiritually. There is so much commonality between our organizations."
Even with Andrews doing well, Mike knew there were opportunities to continuously improve as the Andrews family grew from approximately 300 team members when he joined the company in 2003 to 1,600 team members today.
When Stagen began working with Andrews' executive team, the insights for Mike were profound. "We engaged with Stagen to work with us on the 2×2 project prioritization matrix at our senior leadership level," Mike explains. "We did the first exercise, and the first aha for us was that we had 80 projects up on the board. In essence, we had great people who cared about each other. Those people were running the business in a way that didn't work as well as it could have. We realized, 'Wow! We have 80 projects. That's not going to work.'"
This realization forced them to act more family-like than they had in a long time. "We became aware that the next level of opportunity for us as a team was the willingness to be more vulnerable," says Mike. "It is easier to think, 'I am running with my project and you are running with yours.' It was harder to be honest and admit we couldn't run with everybody's project. So we had to decide together, as a team, what projects we were going to do. When I think about deciding as a team, I find I am opening myself up to more vulnerability." Now, Andrews has only 11-12 projects they are working on at any given time.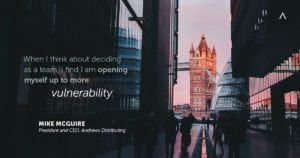 But Andrews' transformations were more than changes in execution; they were personal. Mike says,
"As I was developing as a leader, I always worked on my strengths. I arrived at Stagen with a strong forehand in tennis, so to speak. My forehand helped me get to where I was. Now, at higher levels of responsibility and complexity, Stagen was helping me look at my backhand. I wasn't going to win Wimbledon with just a great forehand."
Like many families, there are sometimes communication issues. For Mike, his metaphorical backhand was his communication style. "I am more of a systems thinker, so for me, my backhand centered around becoming a next-level communicator. In the past, I would share too much of the system, which made it challenging for others to understand me. Not everybody is wired that way, so now I think about communicating in a way that is best for who I am communicating with. It was about learning conscious communication and how to reach people where they are."
Mike's work with Stagen and his executive team continues as the company gains clarity on why they exist. "Brand-building is what we do," Mike says. "It has been our purpose statement for probably the last 10-12 years and it has worked well for us. Our vision statement is to be our customers' most trusted advisor. We felt good about that. But I talked with my Stagen coach and he said, 'Okay, let's think about the why. Why does brand-building matter?'"
Andrews's executive team were working hard to express their purpose statement in a way that was accessible for their stakeholders. The new purpose was born out of intentional thought and effort, "To serve one another in pursuit of being our best." It is a statement that brings Andrews Distributing full circle to the concept of family upon which Barry Andrews founded his company.
When asked about what he would say to someone considering going through the ILP, Mike lights up. "Our experience with Stagen has been extraordinary, both for leadership development and personal development. When I think about the work that I do, typically I think about improving the functionality. If I am a strategist, I am going to learn more about strategy. If I am in finance, I am going to learn more about finance. But then I only develop horizontally. With Stagen, learning has been more about developing vertically and moving to a next-level version of myself. I couldn't think of a better guide than Stagen to help anyone make that happen."
With his final thoughts, Mike brings it back home to family.
"The people at Stagen are amazing black belts in their own right. They created this home-base feel where I felt safe doing deep developmental work. I was supported by the Stagen staff. I'm one year out of Stagen and I still talk to my coach once a month to check on that backhand."