Posted on
---
Impact
When banking executive Scott Flowers found himself laid off with a year's severance package, some big questions emerged. A foreign company had purchased his previous employer in North Texas and consolidated the businesses, leaving Scott in a flurry of interviews and LinkedIn networking, and traveling the country chasing opportunities. But one thought kept recurring: part of him did not want to return to a dark, toxic environment where gallows humor focused on the looming threat of being fired.
That's when serendipity stepped in. "I was traveling all over the country looking for my next opportunity, and my next home was right in my own backyard, where North Texas and Oklahoma meet," says Flowers. "I wouldn't have been ready had I jumped right to it from my previous company. I had to go through this process of soul-searching first."
As soon as he met First United CEO Greg Massey, Scott knew this part of his career path was going to lead him to a very different place. He remembers the moment perfectly: right after being named Executive Vice President, Scott was in a golf cart with Greg, and casually threw out what he saw as a light question: "What's on your bucket list, Greg?"
Without skipping a beat, Greg gave a deep answer: "I want to build a bank where the community is better off than if we had not been there." At first, it struck Scott as an odd answer. Bucket lists are typically about adventures: mountain climbing, paragliding, or something more personal. So he asked the same question again a few holes later—and received the same response. That answer changed his life.
"I felt what I had felt in the interviews when coming on board—something leapt within me, a feeling that had been vibrating inside of me for decades," Scott says. "I'd always wanted banking to work that way. It resonated entirely with my heart, head, and spirit. We were off to change the world, one community, one customer at a time." That's when he knew the transformation from corporate cog to caring human was not only possible but was already beginning. And it wasn't just about him—even more so, it was about the bank's community.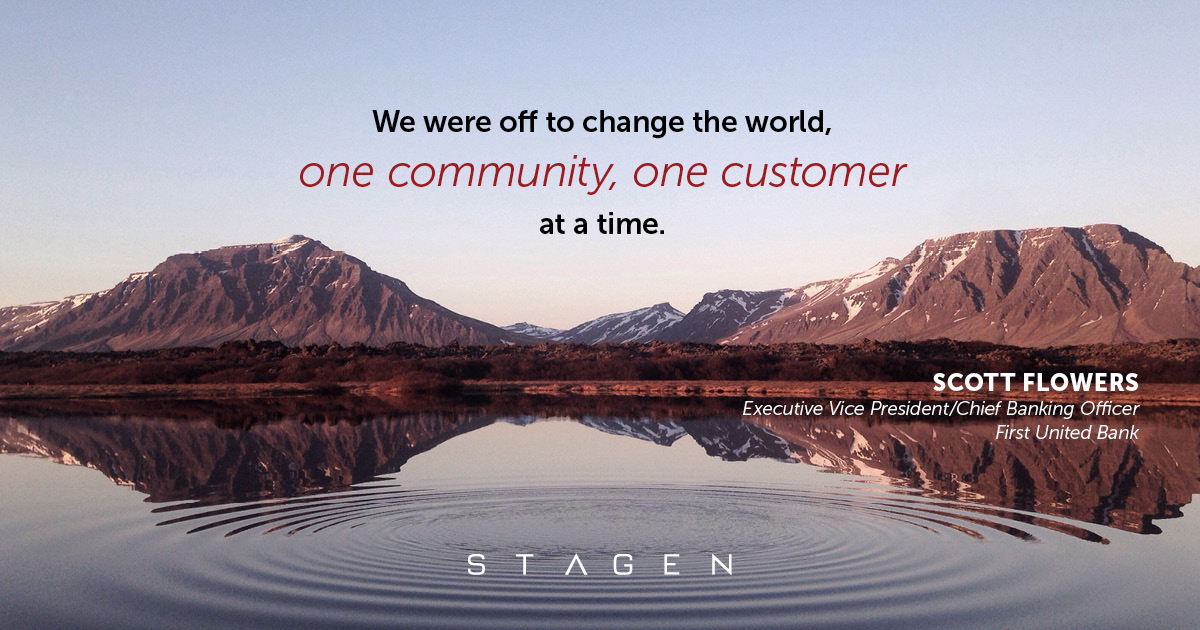 After more than three decades in various leadership positions within the banking industry, Scott had experienced the good, the bad, and, many times, the ugly side of the financial world; an industry where the term "meeting" often meant an anxiety-filled event where people feared for their jobs and had to answer for unrealistic performance goals. Now, he thinks of meetings as an opportunity to discuss the impact his bank is having on its customers, employees, and the community at large. It's the chance to share moving stories straight from the floors of its 70 branches. Often, these stories are small acts of kindness—tiny ripples of good. But they accumulate into much more.
In previous banks, the focus was on revenue. "It became too much about the shareholder and not enough about the stakeholder," Scott says. Regardless of whether a customer needed a particular product, there was only one goal: to sell. But Scott says that's different with First United: "100% product penetration is the wrong number, because now you're selling and not listening."
First United's mindset—the culture—is the polar opposite of other banks. "People struggle about their finances. It's the number-one cause of divorce," Scott says. "So, how do we help people work through their issues and move toward financial wellness?"
Scott had emerged from a cold, numbers-consumed, shareholder-driven world into another dimension—one influenced by Stagen's commitment to Conscious Capitalism, focused on personal growth for the sake of institutional growth, and one in which businesses can have a long-term positive impact on the world around them. At First United, Scott had found his place among a network of banks, each focused on the improvement of its employees and the financial betterment of its own community.
No longer chasing career opportunities or loans, Scott focuses on what Stagen has taught him about elevating people.
"Stagen gives you permission to be better, so you can be better for your team."
This principle was modeled in his first few days on the job. "Greg says to me, 'Here's what I want you to do. I want you to go downstairs and I don't want you to do anything but make friends for the next six months.'"
Scott felt indignant. "I had this frenetic energy. 'Let's get something done, let's turn some gears.' But that request was the best gift Greg ever gave me. He forced me to slow down—and Stagen did, too."
Within two months of joining First United, Greg enrolled Scott in Stagen's Integral Leadership Program (ILP). It's not a one-size-fits-all solution; it's a program that takes grit, hard work, personal reflection, and persistence to complete. For Scott, it was like "getting blasted by a fire hose. The variety and the realness of their people, the leaders, facilitators, and coaches was huge." With coach Rick Voirin, Scott felt like he was talking to a wise sage; when he went to General Manager Wes Blair, the conversation was a rapid-fire round of a million questions. "Stagen was just awesome."
Scott spoke to the impact of the Stagen program as a rebirth of his more graceful self, sharing that it was the ultimate check in on how he was behaving in the world. 
"My biggest resistance was ego. I use the acronym: Edging God Out. I thought I was bigger than everything else, that I knew it all; and that is always the trap. I let ego get in the way of my leadership."
Scott came to the realization that he wasn't approaching his people in the best way possible. "All this ego rising up, and it finally clicked. I said, 'What the hell? It's not about me. It is about them.' The golden rule doesn't cut it. 'Treat others as you want to be treated' could be, as they teach at Stagen, the platinum rule: 'Treat others as they want to be treated.'"
It has been almost seven years since Scott followed his path to First United and through the ILP. The cold, corporate world is in his rearview mirror. Now, he's a guy who happily commutes an hour and a half each way, simply because he loves what he gets to do every day.
The fear-filled meetings are also a thing of the past. At First United, the values are squarely focused on the bank's people, customers, and community. At the monthly video teleconference meetings, they discuss the normal business items: financials, key metrics, etc., but then at the end, they share something else. "We share stories," says Scott. "We are sharing probably two dozen stories at each meeting, and I think, 'Wow, what a great thing to have happen at our bank.' It happens every single time."
Stories like the branch whose employees were feeding a woman breakfast every day. Or the one about a woman who came in crying and admitted that she had been contemplating suicide; when the employees reached out, she found a reason to keep going.
At most other banks, management wouldn't focus on these things. These stories wouldn't be considered relevant. They are too raw, too human. But at First United, it's not only encouraged but it's embodied in the bank's leadership and values.
"By working with Stagen, I put words to my purpose," Scott says. "We are impacting three generations with everything we do."
This is long-term thinking. In the short term, they may use more resources, asking, "How will this work for employees?" But they want to support their clients and their staff. What other bank goes out of its way to create policies that bring employees and clients together, rather than forcing customer service reps into nasty conversations about fees? "If we were a shareholder bank—if all we had to do is generate profit—that would be easy," says Scott. "Oh, that would be easy. I wouldn't be here, but it would be easy."
Does leading with purpose work? Scott thinks so. Three generations' worth of word-of-mouth advertising can be a very powerful thing. "We have customers enrolled who send us letters all the time."
The desire for impact works like stone ripples in a pond. "When the ripple gets to the edges of the pond, the ripple is small," says Scott. "Through the work that Stagen does and the work that First United does—those ripples at the edge are not small. Those ripples are tsunamis for good."