Posted on
---
Leadership
I'm five feet tall and about a hundred pounds. My job is to stand up in front of 22 mostly male CEOs and senior leaders and be a credible, present, and powerful guide for the next 52 weeks of their lives.
Short version: I'm the first female classroom leader at the Stagen Leadership Academy.
Now, I have decades of experience and run my own consulting firm, and that helps. But I also have a secret weapon: I'm a reformed alpha male myself. That means I can help those high-intensity men and women through one of the toughest challenges the Integral Leadership Program (ILP) offers. I'll get to what that challenge is in a minute.
I began my business career in Russia, strangely enough, when I was a graduate student working on a Ph.D in Russian studies. To stay on in the country, I took a job at Caterpillar—and I loved it. It was an exciting challenge, and my inner alpha male was right at home. My boss praised me for being a "pitbull." I was driven to be the strongest, smartest, most successful person in any room. My leadership style was "Take that hill and quit complaining!" I expected the same thing from myself: just make it happen, no tears.
Back then, plenty of times I was faking it, trying not to let on I didn't know what I was doing. After my gig at Caterpillar, I started a firm of my own—a technology sales and IT consulting firm. For years I was scrambling to grow myself and run a company at the same time, while never letting my board think I didn't have a handle on it all. It was incredibly stressful. There were some days I even envied the women heading to work at the Russian phone company. Based on how terrible the phone service was, I assumed their job was easy and they didn't do much. Me? I was maxed out on career challenge.
But when people around me got emotional, I felt befuddled and annoyed; I had a low tolerance for weepy or whiny people or weakness of any kind. Compassion was not in my repertoire, and I wouldn't have understood its value back then. We don't have time for you to slow down and wipe your nose!
If I'd been honest with myself, the real problem was that I didn't have the slightest idea what to do when people were confused, discouraged, or fearful. I'm an introvert and not the fastest draw in social skills. Anger, frustration, and irritation—those I could deal with. But vulnerability, pain, self-doubt? Not so much.
These days, when I work with CEOs, they'll often say, "I don't get emotional."
"Sure you do," I reply, because I've been there. "You do seething. You do disparagement, annoyance, and stress. You just don't do joy, happiness, or sadness."
Fast-forward ten or fifteen years. By this point, I'd become a wife and a mother, and done a good bit of personal development work. I'd trained extensively as an executive coach and built my own coaching and consulting firm—not unlike Stagen's—that was doing transformational work. My pitbull days were well behind me. I'd even founded the Chicago chapter of Conscious Capitalism.
When I heard about Stagen, I was curious enough to get in touch. Rand Stagen urged me to go through the ILP, and I took him up on it. And I made the crucial decision not to do the ILP halfway, not to hold myself out as an observer and an evaluator of Stagen's methodology. I put myself in the program all the way.
Because of that decision, I emerged from ILP deeply impressed with the quality of what Stagen is doing. They've found a way to make this kind of education relevant in the life of an achievement-oriented, results-oriented leader, in a way that nobody else really had—including me. I was so impressed that I knew without question that I wanted to help provide this program. I wanted to be at the front of the room.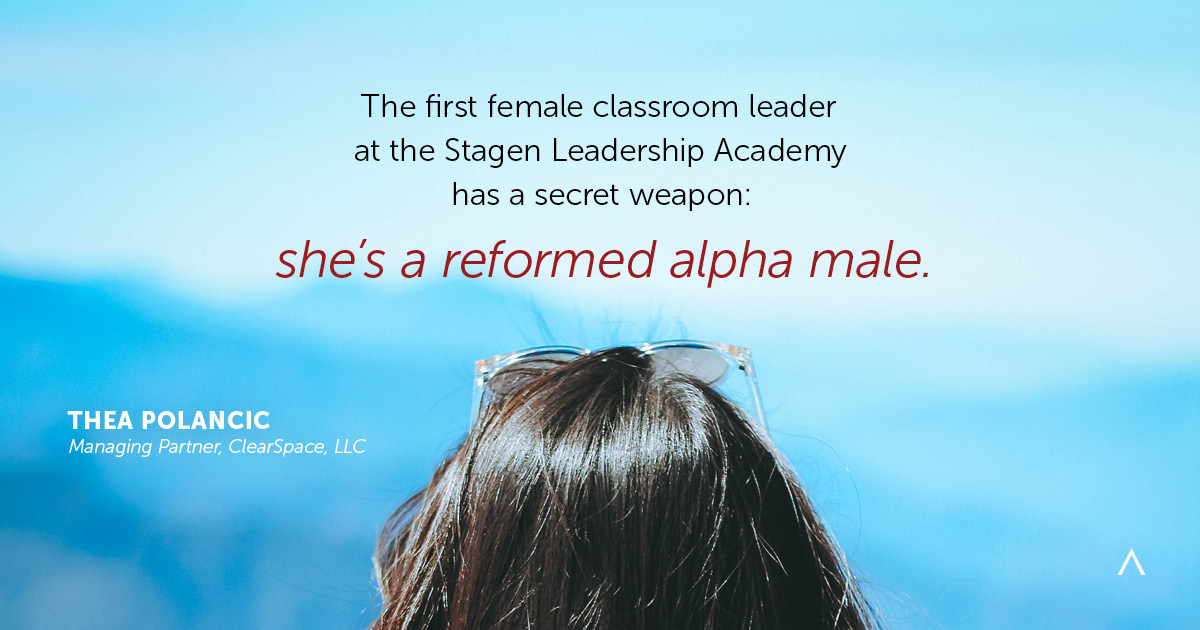 And as a Stagen instructor and a former alpha, I've come to see the biggest challenge for executives working through ILP: surrender to being part of a community. I've seen it over and over. We come into the program—yes, even I did—with our hard candy coating all in place, clinging to our separateness and ego. Let's face it: we're not touchy-feely types. I don't want to sit in this stupid circle, I don't want to be vulnerable, and I don't feel like "sharing." I hear that thought—I've had it myself. We want to do the program alone: me on my journey by myself. I will participate in these group structures, but I am not going to be vulnerable with people or let people be vulnerable with me. I thought this was a business program!
I understand—believe me. But that's why we tell participants that you as a community are going to create what occurs for all of you. Not us. We support you, we challenge you, we create structures that you have to participate in—like teleclasses and group calls and workshops—and we have you share with each other in pairs.
All of this structure is to create community, because that is how human transformation happens; we don't grow unless we are in relationships with other people.
Each ILP participant faces that challenge. And whatever way they choose—whether it's finally contributing to the eJournal or being willing to share in the workshop and participate authentically—eventually they surrender to being a part of something, of a community of people.
And that's the secret. Letting people in and letting them support you and challenge you—and being willing to play those roles for other people—it's the hardest challenge, yes; but it is also why ILP works. If you took 24 people and had them work with individual coaches for 12 months, you'd never get the same extraordinary results as having 24 people in a community with each other on a yearlong learning journey.
And there's more. It might not make sense right away, but once people are halfway through the ILP, they usually begin to realize that this journey is about something more than being better at their job. Even after my own decades of training, the ILP still brought me one huge breakthrough—a deeply personal one. Sure, I've doubled our revenue and expanded our organization, and my non-profit is flourishing. But I've also revitalized my relationship with my husband and am a much more compassionate and caring mother to my son.
Participants don't come to Stagen looking for personal transformation, but that's what they get. Wives and husbands tell us, "Thank you. I don't know what you did, but thank you." Participants come in living a siloed life, thinking the program is just about business—and don't get me wrong, the business results are remarkable. But what participants don't expect is to find integration as a person. That is one aspect of "integral leadership": not being one person at work and one person at home.
What would it be like if you were able to show up fully as yourself in all areas of your life? What if you could bring to your office everything that works about who you are at home and vice versa?
After people go through ILP, their businesses are rocking it. But they are also showing up in life in a way that is more authentic and has greater meaning—for themselves and for their employees, families, and communities. They are more inspired by what they are doing and choosing to not do things that don't inspire them.
Perhaps this sounds too "emotional" or "woo-woo," but take it from this "alpha male"—it's real. And it's worth it.